featured product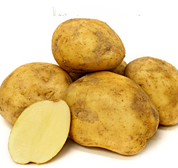 Kennebec Potatoes
The Kennebec potato is making quite an imprint on the culinary world... potato-wise. The days of 'just use any old potato' for french fries are gone, and finer restaurants are switching over to the Kennebec for a variety of reasons and for many kinds of dishes. Why?
As with all basic food items, the qualities of that particular food are important to how it is cooked by itself and how it is used with other ingredients in recipes. The Kennebec has great potato qualities and, though this strain of potato has been around for over 50 years, it's just beginning to get its due and being noticed by better restauranteurs.
The Kennebec is a large potato, and it looks very pretty with its light tan skin, nice uniform appearance (it usually doesn't have large 'holes' like many other potatoes), and attractive white fleshy insides. The skin is thin so it peels quickly (and is fine to use even unpeeled), and it's a nice oval potato so it is more attractive on the plate than some other irregularly-shaped ones. It is an easily-grown main crop potato, the plant has a high and dependable yield of large potatoes, it resists blight and other diseases well, and the potatoes winter very well for a long storage time.

Read more
ORDER OUR PRODUCTS ONLINE

products list
Take a moment to browse through our extensive list of ever changing fresh produce offerings.
We at Chefs' Produce offer thousands of produce items to meet your individual needs, and each is backed by our impeccable customer service. From fruit and vegetables to dried food, organic products to bird food, RChefs' Produce has it all. Make sure to check back often, as our list is updated regularly.
Fruit
Vegetables
Nuts
Cut Produce
Dried Food
Organics
Beans